Blueberry Crush Cocktail Recipe
In the hot summer days, I like to make some cold beverages for my families as well as my friends. Rather it is a birthday party, a backyard BBQ, or just spending some time together, ice cold beverages are a must. I like to make special drinks for different occasions. This Blueberry Crush Cocktail is one kind of beverage which is very suitable for a party. Its beautiful color and the delicate tastes make it sure to be a hit in the gathering.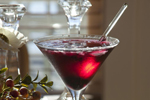 The way to make this drink is super simple and there are many kinds of ingredients for you to choose. You can use any fruit or wine you like to make this cocktail. Anyway, as the cocktail is a mixture with various ingredients, you just need to have enough courage to try the beverage you made.
Ingredients:
Blueberries, fresh lemon juice, lemon thyme simple syrup, vodka, seltzer, ices
For the lemon thyme simple syrup:
Sugar, water, lemon thyme
Directions:
Put the blueberries, lemon juice and lemon thyme simple syrup in a cocktail glass. Mash the berries to release the juice. Pour into some vodka and dip some ices. Pour the seltzer on the top. Sprinkle some blueberries for garnishing.
To make the lemon thyme simple syrup:
Heat a small saucepan with medium heat and add the sugar, water and lemon thyme. Stir until boiling. Reduce the heat and simmer for about 2 minutes. Turn off the heat and set aside to let it cool. Pour it into a jar and seal it. Freeze it in the fridge until ready to use.
Tips: I used the blueberries to make this cocktail to make it have a nice color, because this kind of drink just needs the colorful effect. You can also use some other fruits with deep color, like strawberries, blackberries, purple grapes, and so on.
Pumpkin Bundt Cake with Fruit Glaze Recipe